6 Outdoor Ideas to Enjoy the Day with your Loved One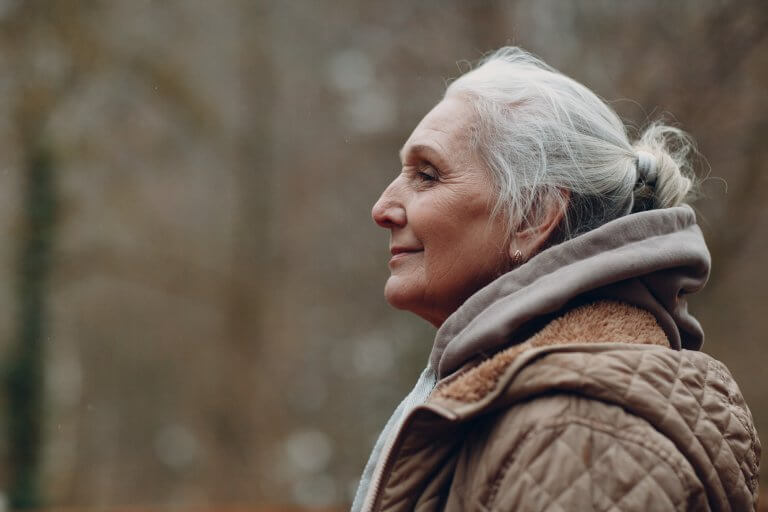 Going outside, enjoying fresh air and the sun are things that immediately make us feel good and are also good for our health. Out of the apartment. Into relaxation.
6 Outdoor Ideas to Enjoy the Day with your Loved One. Nature can not only lift our spirits, reduce stress, but also offer a change of scenery from the usual. We get other thoughts and do a lot for our health at the same time. Eventually we are not outdoors alone but with a caregiver or a beloved relative or simply a dear human being.
Taking the step to leave home is easier said than done for many older people. It often takes planning and courage, but the benefits of being outdoor are endless.
Are you ready to go outside with your loved one and enjoy the fresh air? Then continue reading now, because in our blog post this week, we've compiled 6 outdoor tips to take advantage of being outdoors and do something for your body, mind and soul.
It is possible to tailor all of our above points to the abilities of your loved one. Always make sure that the person really enjoys the activity and is relaxed. Forcing a person to go outside when they are not ready can lead to the opposite. Therefore, take extra care and be realistic about the activity and situation. This does not necessarily mean that it will always work. Everyone has better and worse days. Do not force your loved one or yourself to do anything. Take it slow and don't set the person too big of a challenge. Pay attention to facial expressions, and in addition, watch if person is laughing, crying and ask more often about their state of comfort and if they are tired, thirsty, etc.
Now let's start… with 6 Outdoor Ideas to Enjoy the Day with your Loved One
1. Enjoy a simple walk together
By taking a walk, you can easily find out if the person is comfortable outside. You can decide where to go and how far to walk, and you can also walk the route several times before you get too far away from your starting point. You can also observe the things around you.
Trees, flowers, animals and other people can stimulate you visually and possibly inspire conversation.
If you have a bench nearby, sit outside and listen to the sounds of the birds, feel the breeze, the sun on your skin, and smell the fresh air, flowers, or mowed grass.
All this stimulates and excites our senses. Also build small breaks into your walk. This will protect you from overexerting yourself.
For a short break from indoors, picking up the mail or the daily newspaper can also be something special you can do together.
2. Share your green thumb
Do you have a garden or a patch? Wonderful, then have your loved one help dig up the soil, weed (making sure she/he is different from plants) and cut flowers.
You have a vegetable garden? Harvest fruits and vegetables together. In the spring, you can also sow seeds for the garden and plant garden boxes and tubs.
Raking leaves in the fall is another activity you can incorporate. Possibly this can even be done by children to get the whole family involved. Sweeping an outdoor area such as a porch, patio or driveway is another way to get exercise and fresh air.
However, also be careful here not to overwork the person and build in enough breaks.
3. Transform your garden into a concert space
A bird feeder is a great way to provide stimulation and relaxation.
Ask your loved one to help fill the feeder and let them know when more seeds are needed.
You can watch the variety of birds as they come to the feeder and listen to their songs. Feeding and watching the birds can also be a way to discover a new hobby. The birds have aroused your interest? Great –  get yourself a bird identification book. It sure is more fun to know what the birds are called with names that you are observing.
4. Explore a new neighborhood
Many memories are associated with places, smells and sounds outdoors.
Day trips are a great way to reminisce. Go to a park, beach, or other place that are important to your loved one.
Places like the zoo, animal farms, farmer's markets, flea markets, etc. can also be interesting destinations. Ask your loved one what he or she used to do and visit. He or she loves to watch animals? Then let's go to the zoo, petting zoo or aquarium.
But it doesn't always have to be a visit to a museum or an event. It's often enough to go out for an ice cream or coffee and cake together, sit on a bench and just enjoy the moment.
If you have a sports fan in the family, look for local sporting events to watch. High school soccer games, local soccer clubs, and sports events for your grandchildren are all great activities that can be fun for everyone.
5. Your loved one suffers from dementia? Take special care for their safety
If you are caring for someone with dementia outdoors, you need to make sure they are safe, so they don't hurt themselves or run away.
Each person has a different living environment, so some pre-planning may be necessary before going outdoors.
If you live on a busy street, safety is an important issue. If you live in an apartment, outdoor activities are more difficult and require more planning and effort.
A fenced yard or enclosed patio is probably ideal. Sitting on a balcony or porch can also provide an alternative environment.
6. Get outside! Even in bad weather
Do you live in warmer climates? Then you may have more time to enjoy nature. But this is not an excuse for people who live in colder climates, not to go outside.
Even in cold weather, a few minutes in the fresh air can make a big difference. Especially in winter, the air is often very clear and fresh. This is good for your body, mind and soul.
Should it rain, you can also make good use of these advantages. Sit under a porch or umbrella and listen to the rain. This can be an incredibly relaxing.
Moreover, listening to the rain, smelling the damp wet can calm you down, change your mood or even bring back memories.
So get outside as often as possible and enjoy it!
For the right equipment on cold days we have just the right thing for you.
Remedic Rollator Glove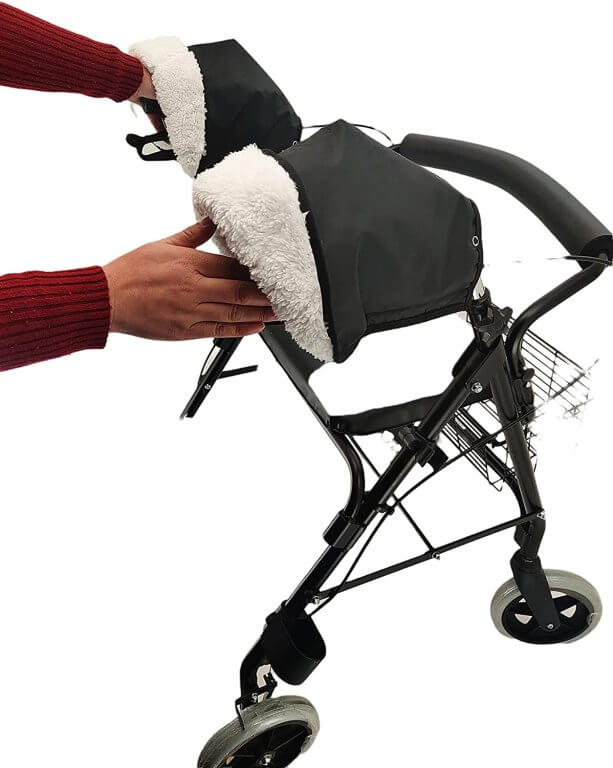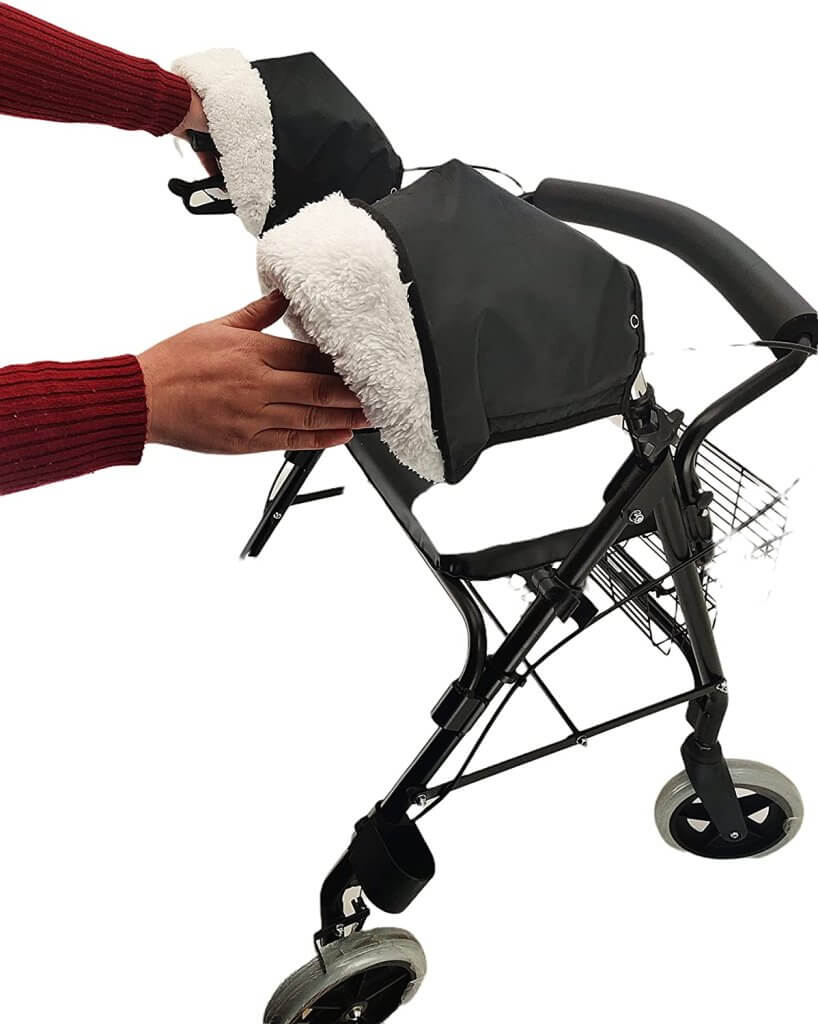 The remedic rollator glove is ideal for the cold season.it protects you from the cold, snow and moisture and provides a cozy warmth around your hands while you are out in the fresh air with the rollator.  In addition, it can be easily attached to a wheelchair and is suitable for any rollator as well as for any wheelchair.
NO MORE COLD HANDS – Water proof outer shell and faux fur inner lining keeps wind, rain and snow
EASY TO ATTACH – Easy to attach to the handles of your rollator, wheelchair or walker – adjustable with hook and loop
CAN BE FIXED – The hand warmers are fixed to the rollator, so no more lost gloves at the supermarket checkout etc.
FOR TEMPERATURE SENSITIVE – great product for people with temperature sensitive or arthritic hands
CUSTOMER SATISFACTION – We offer 24/7 customer service, If you have any questions, please don't hesitate and contact us at any time.
For more everyday aids to make your loved one's life easier and more independent, visit our website at https://remedic.co/products/
We hope you enjoyed our blog post about "6 Outdoor Ideas to Enjoy the Day with your Loved One". Please contact us at any time if you have any questions or comments.
Source:
https://dailycaring.com/refreshing-outdoor-ideas-to-enjoy-with-your-loved-one-clearday/