Enrich Care with a Laugh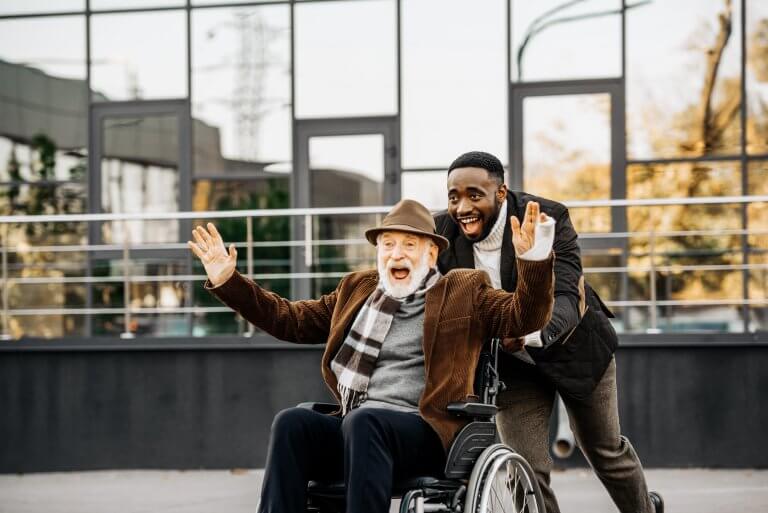 Enrich Care with a Laugh. 5 Ways you can succeed in bringing some humor and good humor into the often hectic daily routine.
Nursing is a very demanding job. It increases stress and this can affect burnout and compassion fatigue. Since negative long-term stress can have far-reaching effects, it is very important to think positive thoughts to combat long-term stress. What works better than bringing some humor into your daily life? Smile and laugh. This will not only benefit you, your colleagues but also the elderly.
In today's blog post, we'll introduce you to 5 different ways to bring laughter into caregiving.
Overview
Caring for an elderly person can be an exhausting and frustrating task.
Although chronic illness and physical decline can be very serious and cause deep emotions and reflections, humor is a wonderful way to cope with pain and stress.
Humor protects against burnout
Caregiving is a demanding as well as stressful task. It must be done around the clock. It is no surprise, then, that caregivers are at high risk for burnout.
It is therefore especially important to avoid chronic stress as much as possible. There are ways to combat this chronic stress and thereby protect yourself from potential burnout. One way is to use humor.
It is important to make a conscious effort to find something funny to do every day to improve your state of mind. This will help them see the positive things especially on difficult days. In addition, it will gradually become a routine and thus you can also bring a laugh or at least a smile to the faces of the people around you. Just start!
Laughter promotes health and well-being
Something as simple as smiling or laughing can have a direct impact not only on your mental well-being, but also on your physical health.
Laughing and smiling releases dopamine, which can lower stress hormones in our bodies and has also been shown to increase pain levels. Sounds incredible? But it is!
As many of us know, stress can contribute to physical illness, so increasing dopamine levels can protect against the negative health effects of chronic stress.
5 ways to bring a smile to a caregiver's face in everyday life.
Following are simple tips on how to promote humor in caregiving to help bring the benefits of laughter and joy into every day:
Use the "Yes, and…" rule (as in improvisational theater or comedy) to keep the conversation going instead of correcting or questioning someone. This could lead to a funny story that you make up together.
Tell a joke, verbatim. If you don't know any, buy a book of jokes and read a few every day. You can also make it a ritual and incorporate it into your day. It's silly and fun.

Make fun of yourself a little bit and that might make you all giggle.

Remember that you are getting older too, not just caring for someone who is older. Putting things in perspective can be relaxing and fun.

Try a 15-minute laughter yoga video. You can find a large number of laughter yoga videos on YouTube.
Fun little treats can also make your day. Bring small funny tokens to your caregiver or colleagues, patients in care. This can be similar to a junk Secret Santa at Christmas. Just take something from home, wrap it up nicely and give the person across the street a little (fun) treat. Remember that fun should be the main focus.
However, if there is an occasion for which you need a useful gift, we at REMEDIC have a very large selection.
REMEDIC Pill Box with Leather Sleeve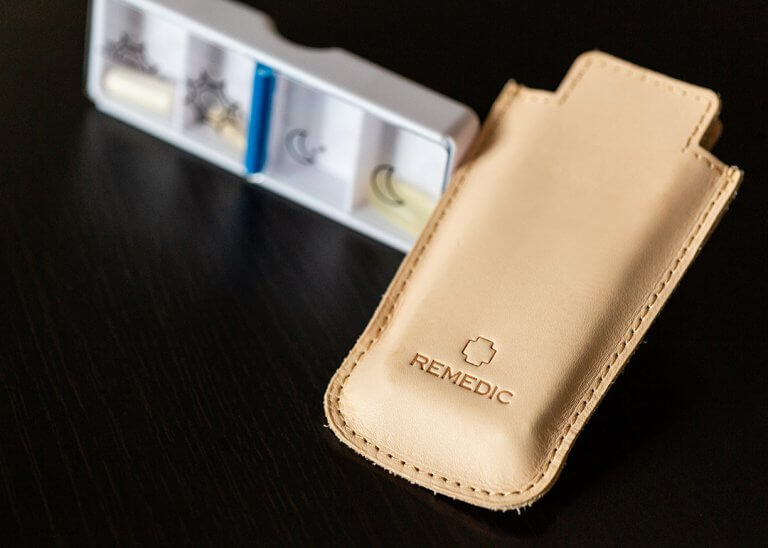 Not only seniors are dependent on a daily tablet intake. And when it comes to food supplements. Nobody likes to carry around a box of tablets. The REMEDIC Day Pill Organizer with leather case is suitable for this purpose.
The Remedic Day Pill Organizer:
Has a groove in each compartment to make it easier to grip for people with limited dexterity
Has a rubber grip on the lid so that the product can be used with only one hand
Is easy to clean
Serves as a stylish tablet case for people on the go
The compact design is great for everyday use and is suitable for travel and day trips. The Pill Organizer provides a smart solution for organizing medications for both patients and caregivers.
For more everyday aids to make your loved one's life easier and more independent, visit our website at https://remedic.co/products/
We hope you enjoyed our blog post about "Enrich Care with a Laugh". Please contact us at any time if you have any questions or comments.
Source:
https://dailycaring.com/5-ways-to-add-laughter-to-caregiving/