NATIONAL NURSES WEEK 2021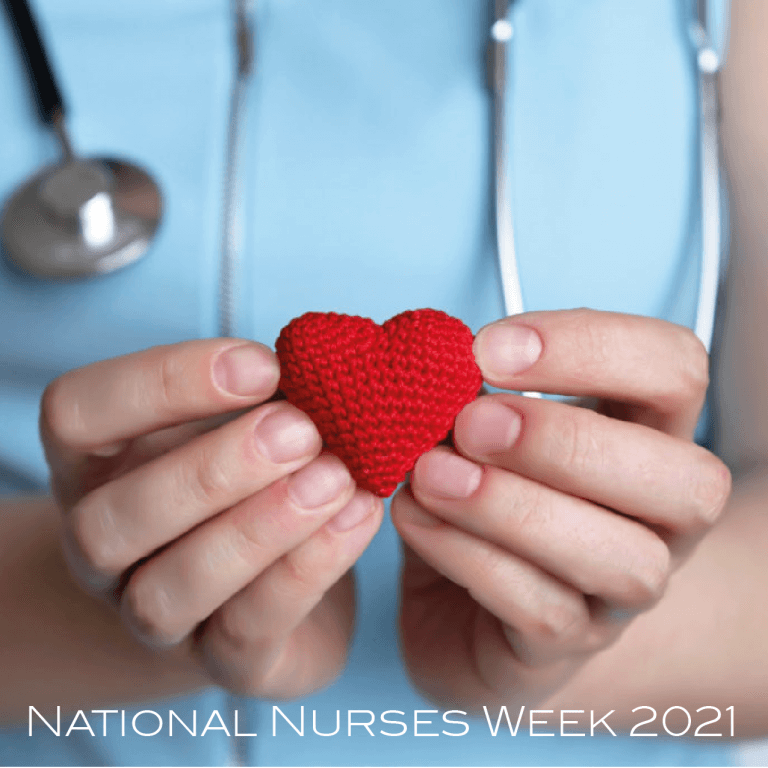 This week the focus is on nurses. In the following blog post, we summarize what it's all about. When is Nurses' Week? What can you do to celebrate Nurses' Week? The history of Nurses' Week. What is Nurses Week?
When is nurses' week?
National Nurses Week 2021 takes place from Thursday, May 6, through Wednesday, May 12, 2021. May 12 is significant because it marks the birthday of the revered Florence Nightingale.
It is held annually, and this year marks the 201st year of Nurses' Week.
Nurses have sacrificed so much for the community. It's only fitting that there exists a week dedicated to giving back to them.
Nurses' Week is an annual celebration for nurses around the world for the work they do for others. The week exists as an opportunity for people to recognize the nurses in their lives. It also provides an opportunity to thank nurses throughout the profession for the work they do.
Although the week is meant to honor all nurses, there are special days dedicated to specific nurses. May 6 is National School Nurse Day, May 8 is National Student Nurses Day for nursing students and May 12 is International Nurses Day.
During COVID-19, nurses have worked tirelessly on the front lines to make sure people who need help get care. The pandemic has taken a toll on nurses' morale and mental health.
Nursing in general is stressful, and COVID-19 amplifies that. This makes it even more important to use Nurses Week to reach out and celebrate nurses in your area and around the world. We need to keep nurses emotionally engaged in their work so they can continue to provide excellent care to their patients.
What can you do to celebrate Nurses' Week?
The pandemic has made celebrating Nurses' Week a little more complicated. However, there are ways to honor nurses. If a nurse has helped you, you could give her a thank you note or even a gift.
Or, if you prefer a video, you can create a thoughtful or funny video to share with a nurse who has touched your family.
You can send the note, gift or video to the facility or hospital where you received care.
Send letters of appreciation
Letting a nurse know she is appreciated goes a long way. A handwritten letter expressing your gratitude could provide the extra motivation for a nurse to keep going during the pandemic.
The good news about writing a thank you letter is that it generally doesn't cost much. All you need is nice stationery, a pen, an envelope and sincerity. Take time to elaborate on why their efforts mean and/or have meant a lot.
The history of Nurses Week
Dorothy Sutherland of the U.S. Department of Health, Education and Welfare sent a proposal to President Eisenhower in 1953 to create an official day for nurses. About 20 years later, President Nixon created a week to honor the nursing profession in February 1974. In 1978, New Jersey Governor Brendon Byrne declared May 6 as National Nurses Day.
In 1981, an assassination attempt was made on President Reagan. He was cared for by a team of nurses who removed a bullet inches from his heart. After his recovery, Reagan tracked down the nurses and sent them words of encouragement and letters of thanks.
In 1982, Ronald Reagan signed an executive order making it official on May 6, 1982.
Also, the International Nurse Council declared May 12 International Nurses Day, named after Florence Nightingale. After a few years, the ANA decided the profession needed a whole week to celebrate.
Now we have Nurses' Week!
Find our latest Blog Posts here https://remedic.co/news/
Sources:
https://www.incrediblehealth.com/blog/nurse-week-freebies/
https://www.incrediblehealth.com/blog/celebrating-nurses-week/
https://www.trustedhealth.com/blog/what-is-nurses-week