Preventing of Falling
Preventing of Falling – Tipps for balance or fatigue issues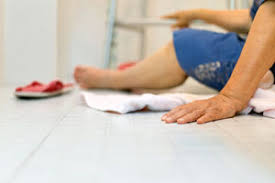 The older you get, the more likely you are to fall. According to estimates, the proportion of people over 65 who fall is at least once a year. If a person is already over 90 years old, one in two falls every year.
Reasons
There are many reasons for this, ranging from walking and balance problems to muscle weakness and vision problems to the fear of falling again because it has already happened. This often leads to a vicious circle of not wanting to move at all. This is wrong. It is very important to deal with the topic "fall prevention" to avoid falls as far as possible.
What happens after a fall
After a fall, people often become permanent care cases, a hip or thigh fracture is often the trigger for a permanent need for care.
To prevent this from happening, this blog post provides some simple measures to prevent falls and thus to maintain quality of life and maturity.
It is advisable to implement the following things in the home:
Especially at night, lamps with motion sensors are very helpful.
Stow away and secure exposed cables, place anti-slip mats under carpets and avoid carpet folds.
Secure critical places in the apartment or house, e.g. stairs, bathtub. The Remedic Shower Stool has also proven to be extremely helpful here. Thanks to its ergonomic design and its sleek and modern look, it is a safe and easy solution for showering or daily body care and allows for greater independence in the bathroom.
Details: It is also easily adjustable in height and versatile for elderly and general family use.
More information needed? please visit the following Link:
https://remedic.co/product/remedic-bath-and-shower-stool-with-soft-seat-and-handle/
Be sure to buy slippers with non-slip soles, so that you have a good grip.
To make it easier to get up, it is advisable to buy chairs with a suitable seat height that makes it easy for you to get up. The same applies to the bed. It is better to lie a little lower than too high to prevent falling out of bed.
In any case, make sure to wear the right visual aid, which fits well. It is better to have this checked by your optician.
We hope that our tips for falling in everyday life can help you and would be pleased if you use one or another product from us. Our goal is to create product innovations every day to make everyday life better, easier and above all more independent for you. Of course, we can not guarantee that our mentioned points will prevent falls. They are purely recommendations.
Sources:
https://www.pflege-praevention.de/tipps/stuerze-pflegebeduerftige/
https://www.pflege.de/pflegende-angehoerige/pflegewissen/sturzprophylaxe/
https://www.internisten-im-netz.de/vorsorge/anti-aging/tipps-fuer-den-alltag/schutz-vor-stuerzen.html
https://www.sturzunfaelle-vermeiden.de/stuerze-im-alter.html