Bathroom Safety for Elderly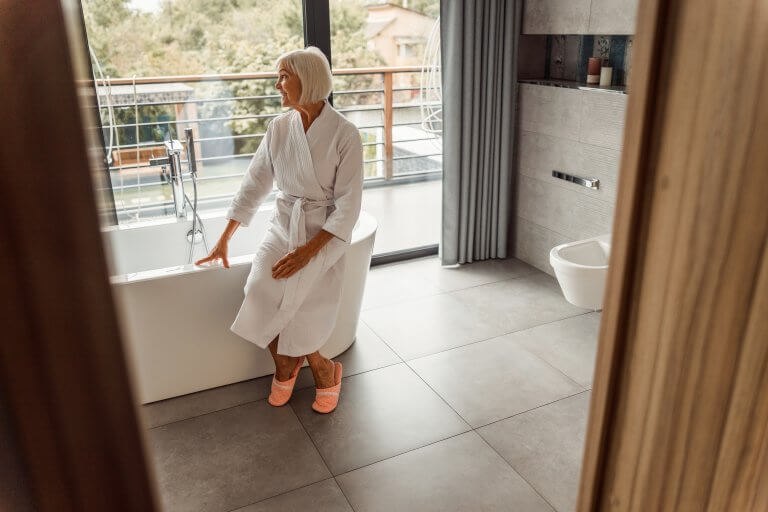 Bathroom Safety for Elderly is important! There are some simple options to create an easy access bathroom, but the key is in the planning and preparation. If we could all build from scratch, it would be easy.
New bathrooms and renovations are very complex. Almost every trade is involved, and as most of their work is behind the walls, you need to have an excellent idea of your final room layout before you start.
Tips on Bathroom Safety for Elderly
Sadly, most of us can't start from scratch and have to work with what we have. There is usually a budget in mind too, but we want to make the space for us or our parents as safe as possible.
Safe bathtubs for seniors
A custom shower enables you to have a level entry. Often this is done by cutting the floor beneath the shower to get a slope towards the drain. There are also flooring systems that can be installed over the existing floor, which gently raise the floor level towards the shower so the water can drain inside the shower.
This will allow a user to slide or roll into the shower. Remember to position the shower mixers lower than usual so they can be accessed from a lower level. The key to getting this right is making sure you have the position of the showerhead and ledge or seat worked out and installed before the water-proofing is done.
Shower Chair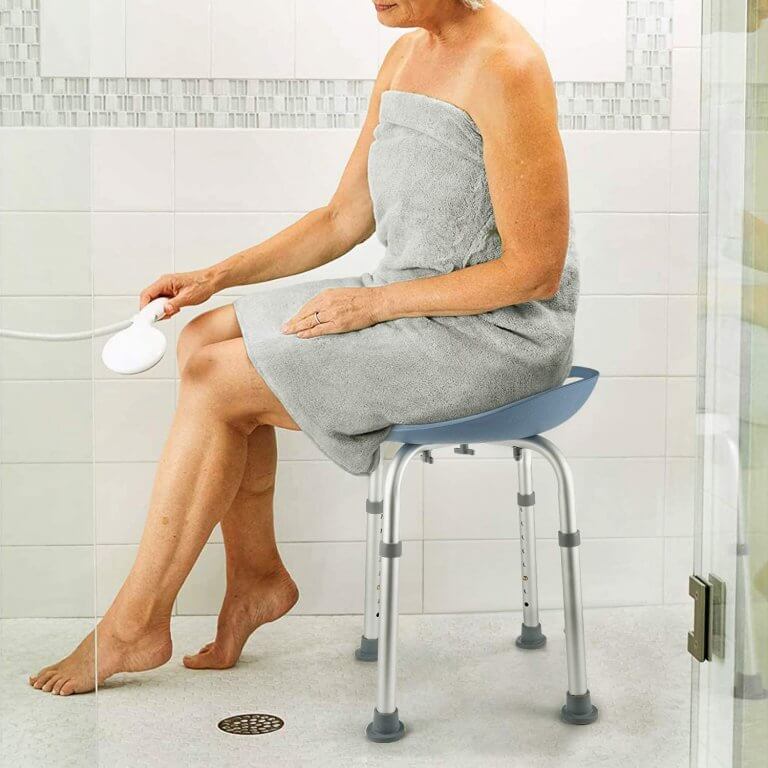 If standing for a while is an issue for your parent, might we suggest getting a shower seat? Once they get in the shower, they can have a seat to get clean. The Remedic Shower Chair combines an ergonomic design with a sleel and modern look. If you struggle with standing for extended periods in the shower, or have balance or fatigue issues, the showet stool provides a safe and easy solution for showering or daily body care and allows for greater independence in the bathroom. That makes it one of the best shower chairs for elderly as well.
The ergonomically shaped seat is made from a specific foam which provides maximum comfort and stable seating posture. Due to his handle its easy to carry him around.
The durable but lightweight frame is made from rust-proof aluminium and is height adjustable. The large synthetic rubber feet ensure the seat is securely held in place.
The Remedic Bath and Shower Chair is:
Hygienic and easy to clean
Ergonomically shaped and easily portable
Features non-slip rubber feet
Bath chair for the elderly and general family use
Has a lightweight design and is suitable for users up to 150kg
Find more information about the Remedic Bath and Shower Chair here: https://remedic.co/product/remedic-bath-and-shower-chair-with-soft-seat/
Order your Remedic Bath and Shower Chair here: https://www.amazon.com/Remedic-Tool-Free-Assembly-Adjustable-Shower/dp/B08B64SC1D/
Grab Bars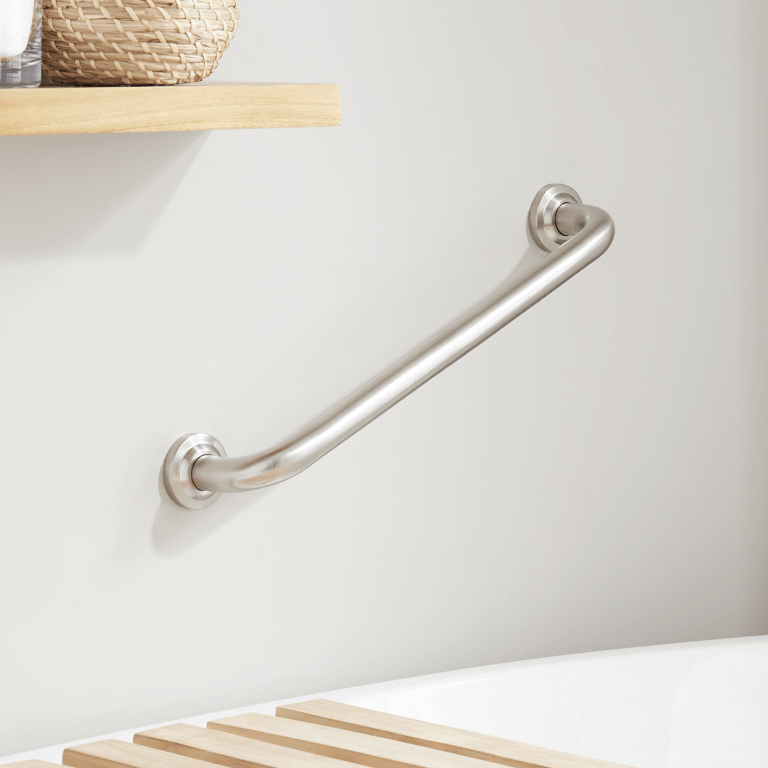 Again, if you aren't blessed enough to build from scratch, then there are other options. Grab bars should be installed, and at several different angles and levels. Think both horizontal and vertical.
While thinking "sturdy", people often grab the thicker bars. This can be a mistake if they are too big for your parent to grab onto easily and prevent slipping or falling. Makes sure you have one handy for people to hang on to when they get in and out of the shower.
Remedic Long Handle Door Stopper Wedge
The Remedic Telescopic Door Stopper Wedge is designed for those with reduced movement and flexibility. It features a doorstop with telescopic handle that can be extended and therefore avoids the need for bending down. The long handle provides for fall protection, no need for crouching down to the floor to pick up the door wedge.  Helps you to manage the draught of air. It can be used as a doors top to hold doors open safely  within the house and keep them from slamming.
The doorstop wedge is made from TPR Rubber and the telescopic pole from stainless steel which makes this product highly durable. It can be collapsed down and folded for easy, compact storage. No matter if you have a wooden floor, carpet or tiles, it works on all floors. The heavy duty rubber wedge assures that it leaves no scratches or dents on your floor or on the door.
The Doorstopper:
Is suitable for all doors
Has a solid and stable design
Measures 90cm / 36inch in length when fully extended
Home safety and fall prevention
Find more about the Remedic Telescopic Door Stopper Wedge here: https://remedic.co/product/remedic-long-handle-door-stopper-wedge-telescopic-door-stop/
Order your Remedic Telescopic Door Stopper Wedge here: https://www.amazon.com/Remedic-Telescopic-extendable-Movement-Flexibility/dp/B08B63QWK3
Elevated Toilets
As simple a thing as setting on a toilet is, it is a bit challenging when you get older. That stool can seem lower than they might remember, and it is a little harder to get up and off of it than it used to be.
Also, items that are wall-mounted, such as vanities or towel racks, should be anchored in for better support. They often end up being used as a quick stbility support and won't help much if they come off of the wall.
Anti Slip Floors For Seniors
Wet feet mean accidents for most people. Stepping into the shower may be easier with that grab bar, but a good anti-slip shower mat is important too.
Let's not forget an anti-slip bath mat for when they step out of the shower! We don't want seniors to fall before they get dried off either!
REMEMBER, always work to a plan, and consult a builder, plumber, bathroom professional, or home health group for more tips. We want to help seniors keep their dignity as they age and their body starts to fail them.
Sources:
https://theyaregettingold.com/bathroom-safety-for-elderly/
https://www.signaturehardware.com/lenoir-standard-grab-bar.html